For Nike, the beginning of 2022 was difficult. In the first two months, the company's papers fell by more than 20%. The reasons for the decline were production disruptions due to the coronavirus pandemic and problems with the supply chain. Fortunately, demand for Nike products has always remained high, which means that the chances of this company's stock starting to rise again are high. Let's take a closer look at Nike's business to determine if we should buy this company's stock now or if we should hold off.
On the way to digital sales
Initially, the company sold its products in two ways: directly to customers, using its website and offline stores, and through multi-brand chains. Direct sales are more profitable for Nike because, in this case, the athletic shoe manufacturer can sell more products at full price. Moreover, wholesalers ask for discounts, seeking more favorable terms for themselves, not to mention that wholesalers can sell Nike products next to competitors' products. No wonder Nike decided to refuse to cooperate with wholesalers.
While Nike used to have to get wholesale partners interested in taking its products, now the process is the opposite, and many companies are trying their best to get Nike to start cooperating with them.
In 2020, the athletic footwear manufacturer ended its partnership with nine major wholesale partners, including Belk and Zappos. The second wave of discontinued business relationships with multi-brand chains continued into 2021. This year Nike terminated its partnerships with DSW, Urban Outfitters, Shoe Show, Dunham's Sports, Olympia Sports, and Big 5 Sporting Goods.
So what did the company replace its partners with? Even before the pandemic, the company began investing in digital sales. During the pandemic, the difference between conventional retail and digital sales increased. Now, the coronavirus is a thing of the past, and the issuer is making a new effort to increase sales through its direct-to-consumer channel, namely Nike Direct, abandoning old forms of sales. And it appears that the company's digital strategy called Consumer Direct Acceleration works. In Q2 2022 alone, the number of unique visitors grew 8.75%. The company notes that most visits come from mobile devices, and the share of visits from PCs is decreasing.
Not only is the company's website and app traffic growing, but so are its revenues. In the last quarter, digital sales generated $47 billion for the athletic shoemaker, up 9 percent from 2020. Digital sales are also beneficial because they increase margins and profits for the company. Gross profit rose 280 basis points last quarter, reaching 46%. The growth in the Nike Direct segment accounts for the increase in margins. Sales rose from $23 billion in 2012 to $44 billion in 2021.
In 2021, the word "metaverse" entered our everyday life, which means a virtual world. For Nike, it was a new step in the digital transformation.
The next stop is metaverse
Why does Nike need virtual reality? Now the virtual world is the domain of young people. But according to predictions, in 5 years, not only teenagers but also adults will regularly spend time in virtual reality. Not wanting to miss out on this new formative market was the reason for buying RTFKT. Morgan Stanley predicts that by 2030, the market for digital collectibles will grow to $25 billion, a tidbit, and Nike will not give it up for anything.
The first step towards Terra incognita for Nike was the purchase of the virtual world NIKELAND in Roblox, which became a kind of springboard for expansion. In this cyberspace, the issuer is going to test new products and study consumer interests. Users of the virtual platform will play games and dress their avatars in Nike shoes and clothes. The company will not profit from it. But it will become a mega advertisement and will increase brand awareness.
The second step to conquer the metaverse was the acquisition of RTFKT, a company that creates next-generation collectibles in virtual and augmented reality.
Should you buy or sell the shares?
Nike began as a small company in the middle of the 20th century, reselling other companies' shoes. Now it is a whole empire, with a capitalization of $230 billion. In the last 12 months, the issuer has earned revenues of $46 billion. For the first half of the fiscal year 2021-2022, the issuer generated net income 16% higher than for the same period in 2020-2021. Net income reached $3.211 billion. Diluted earnings per share for the earnings period rose from $1.73 to $1.98, and revenue rose 8% to $23.6 billion.
Nike shares have almost doubled in value since 2013 when the price-to-earnings (P/E) ratio was around 20. Today, the P/E multiple is around 38.
When deciding whether or not to invest in Nike securities, it is worth considering the challenges that the company is now facing and which have caused the current downtrend. First, sales in China are not recovering as fast as investors expected. In addition, China recorded a new outbreak of coronavirus infection in mid-March 2022, which will delay the recovery even further.
In addition, there are still supply chain problems in the world, which have not yet recovered from the pandemic, and now some of the issuer's stores are still closed in Russia because of the war with Ukraine. We should also mention high oil prices and high inflation, which plays against this company.
Most likely, the following report will not be too optimistic. Analysts are predicting Nike's earnings of $0.71 per share. It is a 21% decline if you compare those numbers with the same period in 2021. Things are likely to improve next quarter (Q4), and the company could post earnings of $0.97 per share, a 4% increase over the same period in 2021.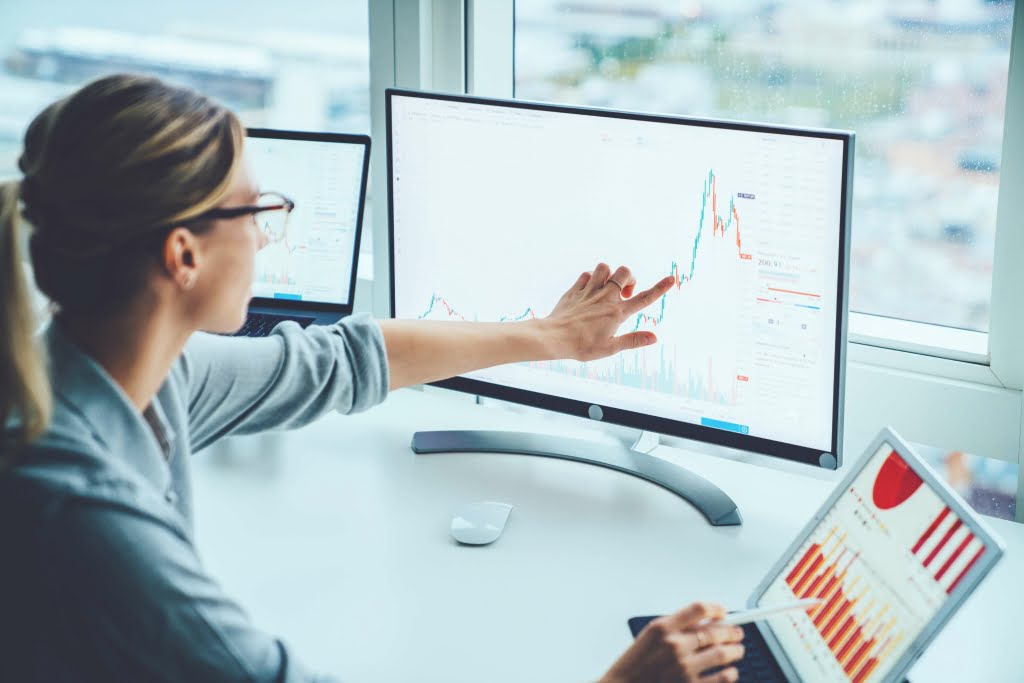 If we talk about the current situation in the market, we are now seeing an increase in buying activity for the first time in recent months. Nike securities quickly returned to the area of $130. A consolidation above this area will allow the asset to return to the $150 level.
During the pandemic, Adobe shares were in high demand as many companies were forced to send their employees to work from home, which increased demand for the company's products. Are Adobe shares worth buying now that the pandemic is coming to an end and employees are back in the office?
Adobe products make the company a leader in digital media. Adobe products allow customers to collect and analyze information, engage in e-commerce, manage content, create, edit digital documents, and process photos and videos.
Adobe is working closely with Walmart and Adobe. Using Adobe solutions, retailers will use Walmart's cloud services to deliver orders to their customers. Adobe also strengthened its Experience Cloud marketing division with the acquisition of Workfront.
The company has not paid dividends since 2005, directing free cash flow to the development of its business.
Adobe products are offered on a subscription basis, allowing the company to generate predictable recurring revenue. The company ended the fourth quarter of 2021 with an increase in revenue and operating income of 23% and 37%, respectively. The net profit figure decreased by 8%, but investors have nothing to worry about here because the decrease was due to a one-time payment of income tax.
In 2021, the company earned 6% more from subscriptions than in 2019. Subscription revenue accounted for 92% of total revenue in 2021. This increase in the share of total revenue helped the issuer increase gross profit from 85% in 2019 to 88% in 2021.
In our view, the company has two areas of growth: Digital Media and Digital Experiences. Of these, Digital Media accounted for 73% of total revenue in 2021, up from 69% in 2019.
The issuer's products touch on all areas of digital business, and because of this, its interests overlap with other tech giants. For example, the company competes with Microsoft in the field of cloud technology, and in the field of marketing, it opposes Salesforce, Oracle, and IBM. Adobe's opponents include Shopify, BigCommerce, and Twilio.
Lots of room to grow
The company believes that its Creative Cloud division has a total addressable market of $63 billion, with revenue of $9.6 billion in fiscal 2021. The Document Cloud division has an addressable market of $32 billion, and in 2021 that division brought in about $2 billion to Adobe.
The company has a diversified business and has many opportunities to further market and improve its products for consumers.
By 2024, the digital media market will be worth $200 billion. Given that Adobe had just under $16 billion in issuer sales in 2021, it is clear that this company still has room to grow.
New products
Adobe is doing everything it can to simplify its products and make them publicly available. For example, the company is developing a version of Photoshop that will work in a web browser. For this purpose, in 2021, the issuer acquired Frame.io, a cloud platform for collaborative video editing.
Adobe also promotes tools for working in the metaworld to help its customers create a new business format. Adobe tools will help in the design and creation of virtual worlds. Substance 3D Modeler is used for this purpose, as well as Adobe Summit 2022.
The Adobe PDF Services connector for Microsoft Power Automate integrates various applications and services into coherent, multi-step workflows that simplify workflow through the automation of repetitive tasks without the need to write complex APIs.
Headless Commerce Capabilities. This tool allows you to create your user interfaces using Adobe technology. For example, a company can create its storefront.
Should you buy or sell Adobe shares?
Adobe shows steady growth, which is associated with competent management, sustainable business strategy, and the ability to create relevant and popular products.
Adobe's operating expenses have been declining for the past two years. During that time, they have dropped from 56% to 51%. The company has an impressive stock buyback program. Over the past four years, the issuer has repurchased about $12 billion.
This paper is characterized by stable growth. However, in recent weeks, the shares of the issuer have dropped by 27% from their highs. They are now traded with a 36-fold forward gain and a 13-fold forward sale. Many think that Adobe securities are too expensive, even with this decline. However, these two multiples are now at their lowest levels since April 2021.
Adobe is forecast to earn an adjusted $3.35 per share in Q1 fiscal 2022 on sales of $4.23 billion. Wall Street analysts expect earnings per share in the neighborhood of $3.39 and sales to reach $4.33 billion.
The company expects adjusted earnings in fiscal 2022 to be $13.70 per share, with sales approaching $18 billion. Wall Street expects Adobe to post earnings of $14.26 per share on sales of $18.16 billion.
We are seeing buyers return to the market. At $400, Adobe paper rebounded and is now rising. Currently, the asset is back to $450, and if the price fixes above $500, you can start cautious buying. The short-term target for buyers is in the area of $590-$600.