Global inflation is near historic highs, and U.S. Treasury bond yields rise steadily. The Fed is expected to raise interest rates several times in 2022. As a result, tech stocks and many growth stocks are falling, and investors have to look for a safe haven to weather the storm with minimal losses.
We would like to offer for consideration a company that, in our opinion, can do a good job – it is AbbVie (ABBV).
AbbVie (ABBV) is a pharmaceutical company that develops, manufactures, and distributes drugs. The company is relatively young, yet its stock is in high demand and is currently traded near historic highs.
What used to be perceived by investors as a serious obstacle to investing is now under control. The company is earning record revenues, and its dividend payments are steadily increasing. In recent months alone, this company's stock has moved more than $20 upward, leaving the $110 area in November 2021, and has started the new year at the $140 level. Is there any chance that this paper will continue its victorious march in 2022? Let's look into it.
Strong business
The company's main drug, Humira, is used to treat rheumatoid arthritis. For a long time, Humira remained the company's main blockbuster and brought it huge money. For example, in 2018, the drug brought the developer $20 billion. Because cheaper analogs began to appear, the company started losing money and earned only $4.9 billion in 2019. In 2020, AbbVie halted a decline in sales, earning $19.83 billion from the drug. Although Humira sales have returned to growth, AbbVie's patent on the drug expires in 2023. Should we be worried about this company's future? We don't think so because AbbVie has already developed an alternative to Humira. The new drug, called Rinvoq, has already been approved by the U.S. regulator and has gone on sale. Sales figures for Rinvoq more than doubled in 2021 to $450 million.
The pharmaceutical company has other drugs in its portfolio. For example, the cancer drug Venclexta, the sales of which exceeded $490 million in the 3rd quarter of fiscal 2021, a 40% increase over 2020.
Revenue from the immunosuppressant Skyrizi over the same period approached $800 million, an 83% increase over 2020.
To expand the line of produced medicines, the company acquired Allergan. With this acquisition, AbbVie obtained several interesting patents, most notably the Allergan Botox franchise.
In Q3 2021, sales of Botox cosmetics jumped 38% year over year to $540 million, while sales of Botox drugs jumped 23% year over year to $640 million. The issuer's total revenue in Q3 2021 was $14.3 billion, up 11% from 2020. With the acquisition of this company, Allergan has opened the way to the $8 billion markets for Botox. The company will also be able to make money from the sale of popular drugs in ophthalmology.
Moreover, due to the acquisition of Allergan, ABBV managed to reduce its dependence on Humira sales, which previously amounted to about two-thirds of revenue.
Good business model, good dividends
AbbVie is also known for its attitude toward its property. All of the company's drugs are protected by hundreds of patents, making it difficult for competitors to create counterparts. In addition to its reliable and profitable business, the company also attracts investors with its dividends.
AbbVie's dividend yield currently stands at 4.24%, which looks attractive compared to many other pharmaceutical companies. Moreover, the issuer regularly increases payouts. Over the past five years, they have grown by 120%, which is quite a fast pace. Over the same period, AbbVie's cash flow increased by 285%.
As long as free cash flow is growing at this rate, ABBV should have no problem increasing dividends each year. Plus, the company's management has explicitly stated that it intends to continue increasing dividends over time.
Financial performance
AbbVie earned $3.33 per share in the 3rd quarter. The company's sales totaled $14.34 billion. The issuer's profits rose nearly 18%, and sales increased 11% year over year. These figures beat analysts' forecasts, who had expected $3.21 per share and $14.3 billion in sales.
The biggest growth came in cosmetic products, thanks to Allergan. The company earned $545 million from Botox. On an annualized basis, sales of cosmetic Botox grew by almost 39%.
The company's pharmaceutical business is also doing well. Sales of immunological drugs, including Humira, jumped more than 15% and reached $6.67 billion. The issuer earned $453 million on the new drug Rinvoq.
Attractive price
You are unlikely to buy a house without first finding out if it is worth the asking price. It's the same with stocks. You should study their valuation before you buy them. Right now, AbbVie stock has an average valuation.
The price-to-earnings ratio (P/E) is 30, about the same as in the pharmaceutical industry. On the other hand, the price to sales ratio (P/S) is just over 4, slightly lower than the industry average of 4.79.
The investor does not have to worry too much about overpaying. Additionally, the company has minimal risk of a sharp drop in the stock because of overvaluation. Thus, both of these factors contribute to purchasing the company a success.
As far as we can tell, AbbVie management is doing everything right. The revenues of this pharmaceutical corporation are growing steadily. With the acquisition of Allergan, AbbVie added new products. In 2021, AbbVie acquired TeneoOne and added a potential multiple myeloma treatment to its pharmaceutical portfolio.
And the company itself has a good alternative to Humira in the form of Rinvoq and Skyrizi. These two drugs are projected to reach combined sales of $15 billion by 2025.
In our opinion, now is an excellent opportunity to buy this paper at an attractive price before it starts another growth. At the moment, the buyers are testing the strength of the $140 level, after which the paper may jump to the area of $165.
For many years, Ford Motor Company (F) remained out of sight of investors investing in growth. Although, the price of the company's securities showed it for almost ten years. Over the past year, however, they have skyrocketed by 140%. But will it be followed by a decline, or can we expect further growth?
Should Tesla's successes be seen as a signal of segment growth, indicative of Ford's increased profits? Three reasons might suggest this.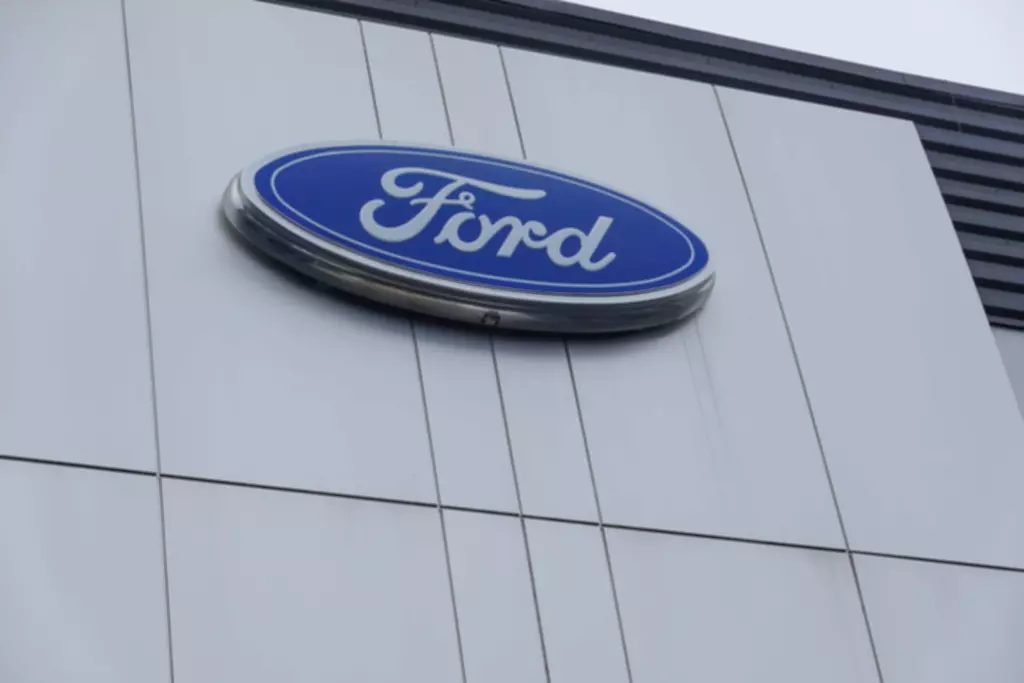 Why is Ford stock rising?
The last day of trading for 2021 was a breakout day for Ford, as the stock reached its highest level in twenty years at $20.77. If you had invested $10,000 in the company's stock at the beginning of 2021, by the end of the year, you could have had $23,63,000. The car giant's stock has grown more than competitors such as Toyota Motors or Volkswagen.
Ford's stock is buoyed by several major factors. First of all, we're talking about the imminent release of the F-150 Lightning electric pickup. For 44 years, the F-Series has been the best-selling truck in the States. Of course, the news of the upcoming all-electric version of the beloved car caused a positive reaction. The company was forced to stop accepting orders for pickup when the number of orders reached 200,000.
Given the high demand, the company decided to invest in increasing production capacity in Michigan, where it plans to produce the F-150 Lightning. The new electric car will be on the market this spring.
The second reason for the growth of the company's securities is a strong report for the 3rd quarter: the data on revenues and sales were higher than in the 2nd quarter. Moreover, they exceeded analytical forecasts.
Unlike its competitors, Ford successfully solved the chip issue. The company began to cooperate with GlobalFoundries, a chipmaker. It also resumed paying dividends and raised its operating profit forecast for 2022.
The growth continued in Q4, as evidenced by the good numbers for October and November 2021. All of the above contributed to the fact that the company's securities went up last year.
Ford takes electric cars seriously
The classic automakers, the old-timers of the market, were quite skeptical of the young Tesla company as it moved through difficulties to the place it occupies now. This skepticism and delay in reconsidering its views helped Tesla break into the leadership of the electric power segment, and now former skeptics are rushing to catch up. By 2030, investment in electric cars from automakers is projected to total $500 billion.
The leading position in car production is largely determined by the ability of the old-timers to adapt and compete with Tesla. In this matter, Ford shows respectable persistence. The company is ready to compete, offering its electric cars, the F-150 pickup, and the Mustang.
Although Ford's transformation has just begun, the outlook is bright. Last year, 27,14 thousand Mustang Mach-E electric cars appeared in the market, and this year, the F-150 Lightning and the electric version of the popular Transit are next in line. Investors will be watching Ford's electric car sales closely, but the company is serious.
Ford has room to grow
It makes no sense to claim that Ford's prospects are better than Tesla's, but one thing is clear: the gap between them is much smaller than one might think. It is evidenced by their performance.
According to analysts, Tesla will grow 38% per share over the next 2-5 years from $6.29 in 2021. Currently, the price-to-earnings ratio of the stock has reached 163. For Ford, projections are for growth of 25% over the same period from a starting price of $1.89 in 2021. The price-to-earnings ratio at the moment is a little less than 13. As you can see, Tesla's ratio is ten times greater than Ford's, but the latter has almost comparable free cash flow capabilities, as well as similar profit growth projections.
Can you buy Ford shares now?
Should we invest in the company's shares after rapid growth of 136%? To answer this question, we need to assess the company's plans. They can be called ambitious in the production of electric cars. Global production capacity is planned to increase to 600 thousand. It should be noted that Tesla sales in 2021 amounted to 936 thousand. Ford's planned investment in electric vehicle production is $30 billion until 2025.
The company is also building three new plants that will produce batteries. Two are located in Kentucky and one in Tennessee.
The new facilities will cover the company's demand for these important elements for electric cars. The plants will produce up to 1 million batteries per year. We should also mention Ford's recent investment in solid-state battery maker Solid Power. Needless to say, how important it is for electric car production to have batteries, and Ford can stay calm. And to take its rightful place in the electric car market, it needs to demonstrate battery efficiency. That's why, by investing in the future of batteries, Ford is affirming its intention to be among the first.
There are also plans to expand the production of electric cars in Europe. New factories are being built in Germany, and a factory in Great Britain (Halewood) is being converted, where powertrains for electric cars will be produced instead of transmissions.
This paper recently fell back from its highs, returning to the $19.50-$20.50 area. It speaks about the instrument's return to growth. After fixing above $22, it will be possible to talk about the resumption of growth. In this case, we recommend buying towards $31.
As you can see, Ford is putting a lot of effort into taking the lead among electric car manufacturers. Although it still has a lot of work to do in this area, it can rely on its own experience in car production, as well as on customer loyalty. It distinguishes the company from other newcomers in the electric car market. In this regard, Ford securities are noteworthy, even though they have risen significantly.
Last week's quarterly reports
Intel
In January 2021, Intel reported on its successes. On the whole, the report of this corporation came out positive. Earnings per share in the 4th quarter showed a 28% decrease to $1.09 compared to the same period of 2021. Nevertheless, the indicator was better than the forecast of $0.91.
Total revenues also went down, dropping 3% to $19.5 billion. Nevertheless, they were better than the forecast of $18.31 billion. The company still plans to build a new chip plant in the U.S. and spend $20 billion on it.
Even though the numbers in the report came out better than expected, the paper continued to fall. Investors felt that the long-term project to build new plants and introduce new technology would put pressure on its earnings. The company's management expects margins to recover only at the end of the five years.
We still don't think it's the right time to buy it.
Procter & Gamble
Earlier this month, we made a forecast for Procter & Gamble as well. Let's take a look at how the market has changed since the quarterly report.
The issuer's net income in the 2nd quarter of the fiscal year 2022 increased 10% compared to the same period in 2021, reaching $4.2 billion. Procter & Gamble's net sales rose 6% to $21 billion, with organic sales up 6%. Diluted net income per share rose 13% to $1.66. Operating income for the quarter was $5.1 billion.
After releasing a positive report, Procter & Gamble raised its sales growth forecast for 2022 from 2-4% to 3-4%. Organic sales growth should grow from 2-4% to 4-5%.